Back to News
Announcements
SFF 2023 – Run Rabbit Run & Late Night With the Devil
10 May 2023
See it all and immerse yourself in emotion – from the glee to the grit to the glory – as Sydney comes alive with 200+ movies screening at the 70th Sydney Film Festival.
The 70th annual Sydney Film Festival announced its program today, featuring the Australian premieres of two upcoming Umbrella titles. SXSW crowd favourite Late Night With The Devil directed by Colin and Cameron Cairnes and psychological thriller Run Rabbit Run featuring the superb Sarah Snook will feature amongst a line of incredible cinema at the festival this year.
Read more about the films below and book your tickets here
Umbrella at Sydney Film Festival 2023
Late Night With the Devil
Directed by Colin Cairnes, Cameron Cairnes  | 2023 | 92 minutes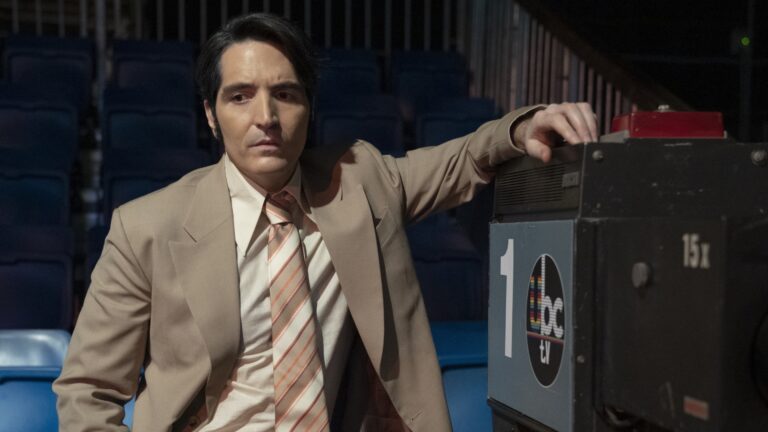 All demonic hell erupts on a US TV talk show in 1977. This brilliantly executed, documentary-style horror from Aussies Colin and Cameron Cairnes knocked 'em dead at SXSW.For six long years late-night TV host Jack Delroy (the superb David Dastmalchian) has been runner-up in the ratings. Even belonging to shadowy power society, The Grove hasn't helped. But tonight is Halloween, and Jack plans to claim top spot with his guests including a sceptic, a famous psychic and a disturbed teenager who survived a Satanic death cult and claims to be hosting a demon called 'Mr Wiggles'. That's just the basics of a richly detailed and brilliantly assembled tale presented as the recently rediscovered master tape and behind-the-scenes footage of that fateful night. This spooky, gory and wickedly satirical snapshot of the post-Exorcist 'Satanic Panic' 1970s is a triumph for its Aussie creators.
Run Rabbit Run
Directed by Daina Reid | 2022 | 100 minutes
Sarah Snook (Succession) stars in a spine-tingling Australian psychological thriller as a troubled single mother whose daughter grows distant… and disturbing. Official selection, Sundance.This chilling feature debut from Emmy-nominated Australian filmmaker Daina Reid (The Handmaid's Tale) is a fantasy and horror tinged journey into the stark reality of a fractured mother-daughter relationship. Sarah (Snook) is a divorced fertility doctor whose daughter, Mia, begins acting strangely on the eve of her seventh birthday. The girl's disturbing drawings, fierce attachment to a cardboard rabbit face mask and sudden insistence that her name is Alice drive Sarah to despair and towards a reckoning with her troubled past. Outstanding performances by Snook and amazingly talented newcomer Lily LaTorre make this a memorable expedition down the rabbit hole of memory, guilt and family secrets and lies.
See the full Sydney Film Festival Program here